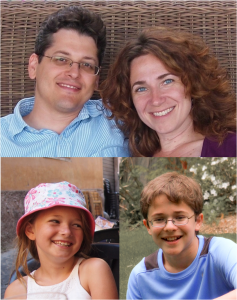 Introduction:
This blog site tells the story of our family's trip around the world, from July 2010 to July 2011.  We started in Boston and went east to Europe for two months of touring, stayed in Paris for four months of deep-dive in a single country, then continued east around the world through the Middle East, India, New Zealand, Southeast Asia, Australia, China and then to Africa before coming home. 
The journey covered 32 countries and multiple locations in many of them – we took a total of 88 flights and stayed in 78 different places during the year.
Katherine's Piggy came with us every step of the way.  In each country we took her picture and asked our friends to guess where she was.  You can follow along with that or several other themes under the Topics menu item.
Because blogs are published in reverse-order, it is a bit cumbersome to read about the trip from start to finish.  The easiest way is to use the monthly Archives at right and then scroll down to the bottom of each month and read upward.
Have fun and we hope this blog will be helpful to anyone planning a long trip and to everyone who enjoys armchair travel.
Email:
carter@365saturdays.org
gina@365saturdays.org
katherine@365saturdays.org
russ@365saturdays.org
We look forward to hearing from you!