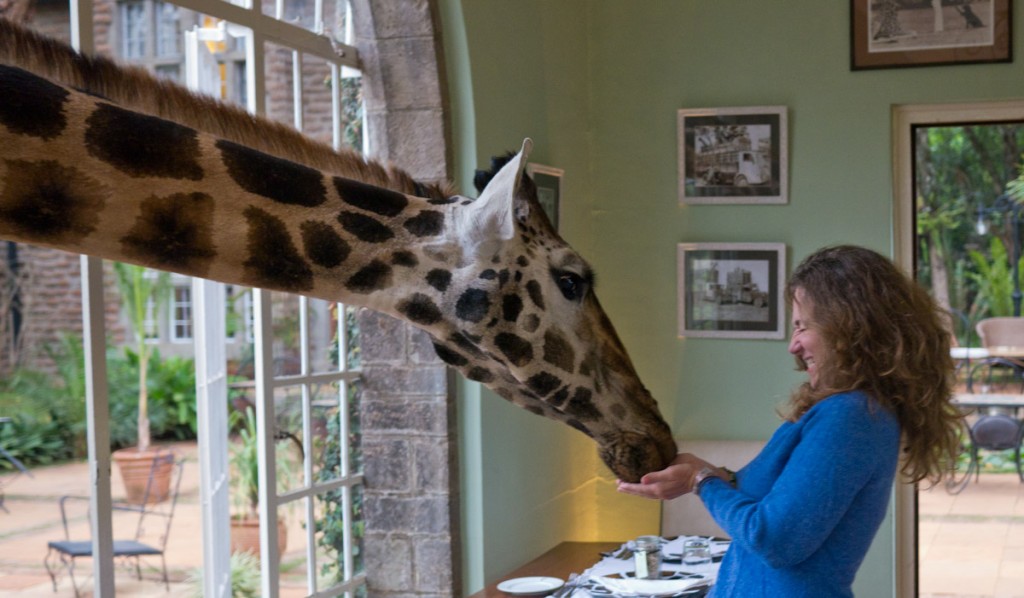 Imagine an ivy-clad turn-of-the –century colonial manor house surrounded by acres of unspoiled land.  Inside, you can take tea in the drawing room by the fire or settle in for a lovely breakfast beside the windows overlooking the grounds.  Next, imagine a 17' tall giraffe strolls up and sticks his head inside the breakfast room, effectively asking "where's mine?"  You are at the Giraffe Manor in Nairobi, Kenya.
From the moment Sam suggested this property I knew it was going to be one of the best all year; the combination of old world charm and my favorite animal up close were unbeatable.   
After checking in, we were led to the second floor and shown our rooms.  They were beautifully appointed with canopied four poster beds and period fireplaces.  We giggled when we were taught how to operate the windows:  near the opening mechanism was a pretty silver bucket filled with giraffe snacks (little pellets made of grass and salt).  We were told to keep an eye out for long-necked visitors.  If they came to call, we were encouraged to indulge them with as many treats as we liked.  The buckets would be constantly replenished.
We had seen many, many giraffe while on safari but had never been able to get very close.  We learned that there are three distinct types:  the Masai (the most common), the reticulated (rare), and the Rothschild (with a total population of only 700, highly endangered).  The best way to tell them apart is by their markings.  The Masai giraffe is the one we see in zoos at home, the reticulated is darker with a more striking and clearly delineated geometric pattern, and the Rothschild has a creamy undercoat with no markings at all below the knee.  
All are very timid animals and usually freeze then run at the sound of an engine.  However, the eight Rothschild giraffe at the Manor are not shy at all.  The first adoptee, Daisy, had been orphaned and hand-reared by the original owners.  Consequently, she thought nothing of coming up to the house and nudging her nose inside for a loving stroke or a tasty treat.  The others who were brought or born there later simply followed her lead and now all come in regular and close contact with the staff and guests.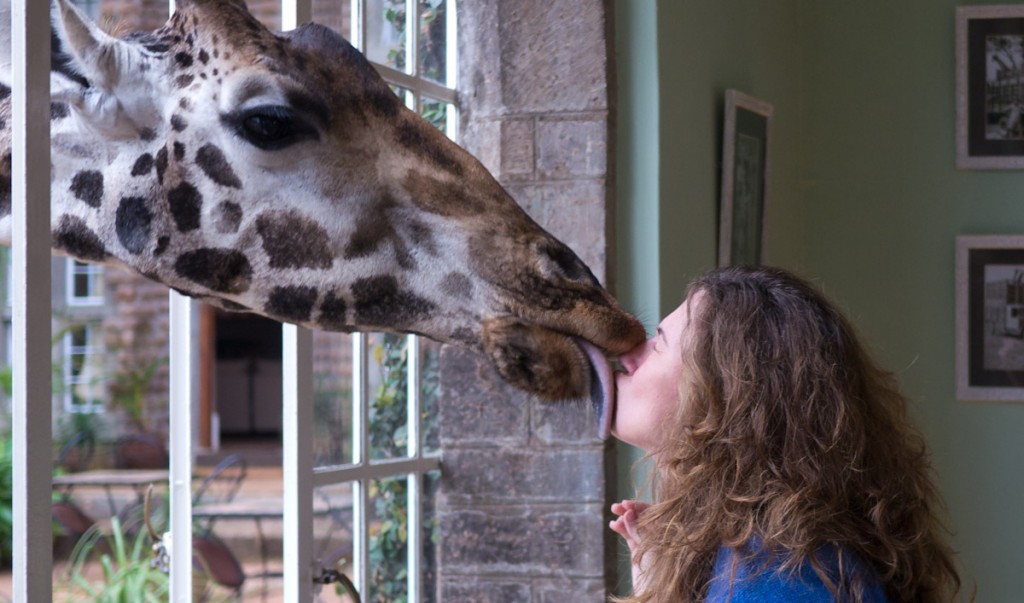 And I do mean close.  I was a little dubious as Giles, one of the managers, encouraged us all to "kiss" the giraffe.  He explained that we simply had to place a longish pellet between our lips and then tilt our heads up and wait for the smooch.  Well, I loved the idea in theory but was a little squeamish at the idea of giraffe drool.  Plus, I hardly knew this giraffe.  In the end, though, we all went for it.  I must confess that a giraffe looks really, really big when its huge head is looming over you.  And its eyelashes are incredibly Iong!  I squeezed my eyes shut at the last minute and waited for the slobbery aftermath.  To my surprise and delight, the kiss was on the dry side.  A giraffe tongue is blue/black and very long.  It also feels a little scratchy, like fine sandpaper.  I would definitely kiss a giraffe again.
I wouldn't get close to the other resident, though.  A troupe of the fattest wart hogs we had ever seen ran in and out of the giraffe's legs hoping to steal any dropped pellets.  They might be cute in a scruffy sort of way but they can really hurt you so we kept a respectful distance. 
On our last day, the kids and I made a pilgrimage to the nearby Sheldrick Elephant Orphanage.  There, we saw 14 teeny tiny baby elephants that had all lost their mothers to poaching or disease.  The orphans are looked after for two years here, after which they are transferred to dedicated release centers in the large conservancies where they stay for another eight years before they are successfully re-introduced to the wild.
We could not believe how very small they were and how incredibly human they seemed.  They trotted in from the field in parade formation, racing to their beds where they knew their keepers waited with full bottles.  We watched as they guzzled gallons of milk, making happy slurping noises all the while.  Their keepers then talked to them, stroking and scratching them, as they prepared mattresses and blankets for their naps.  We fell in love with a little 9 month old named Naipoki, who had actually been rescued by our Sarara Camp hosts Jeremy and Katie!  When Naipoki had finished her bottles, she nudged her keeper's arm until he finally relented and let her suck on his fingers, just like a human pacifier.  He then urged her onto her mattress, where she lay down and he covered her up.  We watched wide-eyed as she tucked the tip of her trunk into her mouth and began to suck on it.  Slowly she closed her eyes and fell asleep.  I wondered if elephants could dream and, if so, what Naipoki dreamed about.
I dreamed of coming back.