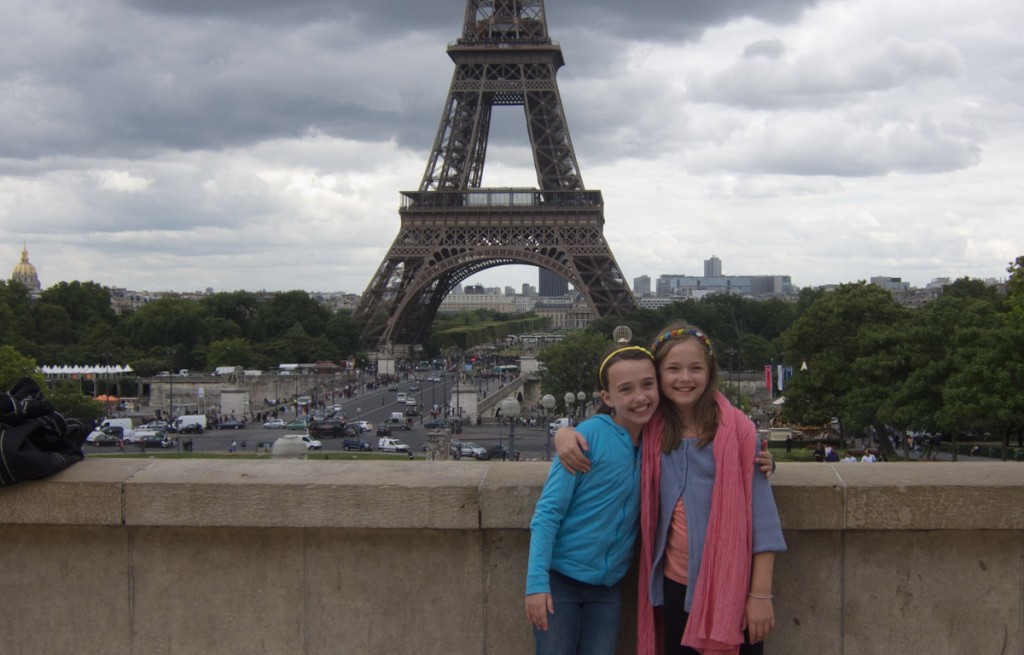 Camryn (my age), Maggie (6), Jill (Mom) and Chris (Dad) Woods made our last days in Paris awesome. The parents chatted about endless super boring stuff while the kids played tons of games.
The Woods were spending their summer in London and took a two hour train to meet us. We both stayed on the island in the 4th district near Notre Dame. Chris could only stay two days before he had to go back to work so we crammed in as much as possible. The first day we ate breakfast at Ladurée then walked through the Tuilleries garden and jumped on trampolines. We saw the outside of Notre Dame and showed off our knowledge we got from an earlier Notre Dame tour we had last time. We didn't go in because the line was far too long. Dinner was early and after that the kids played at our apartment. We then had a much needed sleep.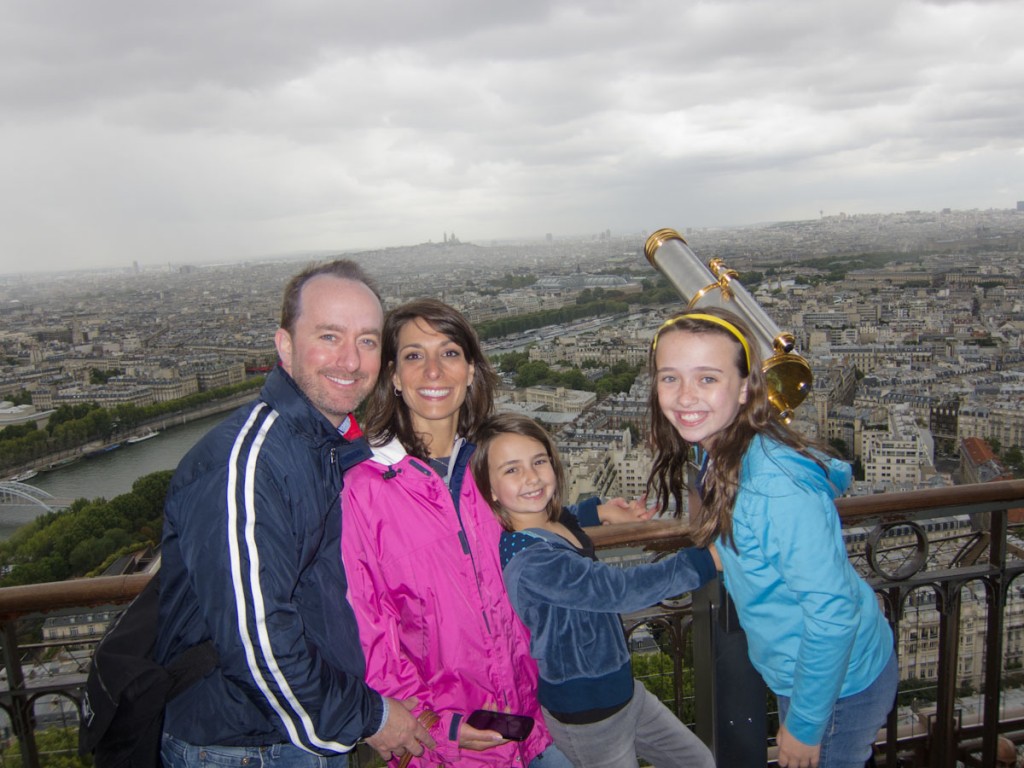 Next we climbed the Eiffel Tower. It was freezing but we made it up the 704 stairs. After having pizza and hot dogs at the top we made our way down and rode a carousel. Afterwards we had Maggie's first cotton candy. We then made our way to the Louvre and saw Venus de Milo, Winged Victory, and Mona Lisa. On our way home we stopped on the bridge to see if the Eiffel tower would light up like it used to. It didn't though because it was summer and the sky was too light. A tourist boat was floating by and we waved to it. Everyone waved back and a few girls screamed their greeting. A lady was doing a funny wave and Camryn did the same back. She then did a little dance and Camryn mirrored her. They passed under the bridge and we ran across to the other side just in time to catch them coming out. Everyone was laughing and it was one of my favorite experiences in Paris. Dinner was crepes, cold cuts, a baguette, and some fruit.
Chris left early the next morning.  Then we got to have another lesson with Blandine, our tutor.  We got to learn some new phrases and recap what we had forgotten.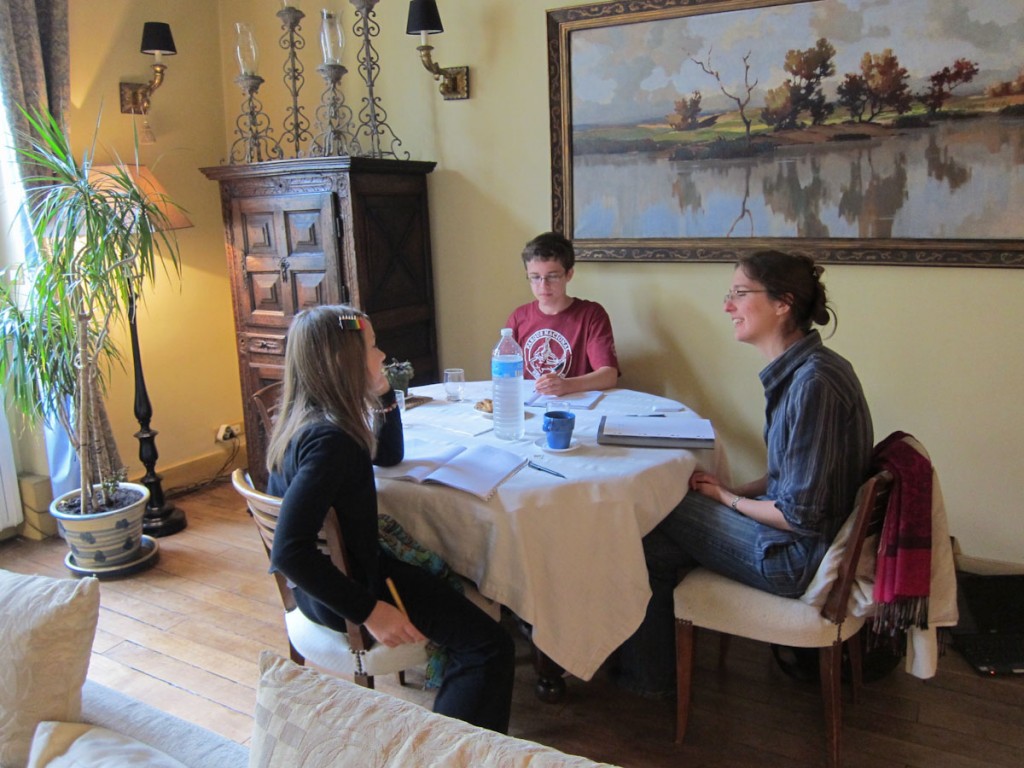 I was so happy to see Blandine she is a really great teacher.  She is super patient and extremely nice and she has amazing lesson ideas that are fun.  For instance she had a contest and she would hold up signs with different numbers and we would see who could say it the fastest in French.  Sadly Carter won!
Then we went to the Opera house. Dad played tour guide and we had lunch at an Italian restaurant much to my mom's annoyance. We then split up and saw Harry Potter 7 part 2! That means we have seen Harry Potter 4, 5, 6, 7 part 1, and 7 part 2 all in Paris! The movie ended at 9:00 and we trudged home extremely tired.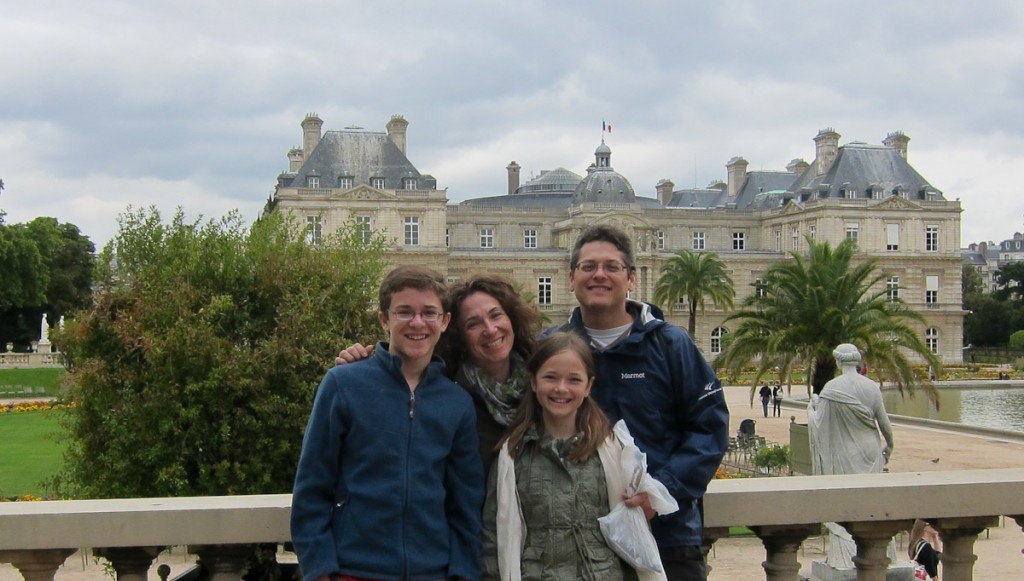 We spent the only sunny day which was the last one in Luxembourg gardens. We spent the day playing on the playground and went on the carousel. Next we went shopping for back to school clothes and got some really awesome stuff.
We had an extreme packing morning and we are actually on the plane which taking off right now. Natick, here we come!