I don't know what I had in mind when I imagined eating in Africa.  I hadn't really given it much thought. If I had been asked to speculate I would have guessed that the cuisine would be simple dishes consisting mostly of sweet potatoes, rice, and other starches.  I certainly never thought we'd be eating gourmet.
Cape Town proved to be one of the most cosmopolitan cities we've visited and the array of restaurants was overwhelming; every global cuisine was represented so choosing was difficult.  Seafood is prominent on many menus since the city is perched on the coast.  We set out to try some of the local catch and consequently discovered King Klipfish, which is a meaty white fish that takes flavors and sauces really well.  We tried it simply prepared in lemon and butter and also served with a Malay curry sauce.  Spices are widely incorporated in the dishes here because the Cape was a key stop along the seafaring spice route from England to India and islands beyond.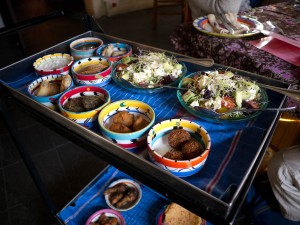 We also had a chance to prepare some traditional South African dishes.  Working under the expert guidance of Riaan at TriActive, we prepared a classic bobotie, which is essentially a spiced-up version of shepherd's pie.  It is a base of ground beef seasoned with onions, curry, chutney, and golden raisins topped with an egg custard instead of whipped potatoes.  It is savory and sweet and would be a perfect brunch dish.  We also tried a signature Afrikaans dessert called malva pudding.  This dish may be the most densely caloric we've come across.  I lost count of how much sugar, cream, and eggs went into this concoction which is something of a cross between caramel crème brulée and bread pudding.  It was served piping hot and swimming in a homemade vanilla custard sauce.  Zoinks.  I actually drew a line down the middle of my serving and swore that I wouldn't let my fork cross it.  Keeping my promise took supreme effort and I envied Carter his massive growth spurt; he could—and did—finish his entire portion, no problem.
Root vegetables and starches definitely do play a starring role here and are often prepared more sweet than savory.  We roasted thick wedges of sweet potatoes glazed with honey and soy.  They were cooked to perfection: the edges were crunchy and carmelized and stuck in your molars while the centers were moist and buttery.  We also roasted chunks of butternut squash tossed with olive oil, honey, chopped rosemary, cilantro, and arugula.  It was the best squash any of us had ever tasted and it was this dish that sealed victory for the boys in our cooking contest.
However, the best meal of our entire stay, hands-down, was at a winery outside the city called Babel (as in, "the Tower of" which is the name of the mountain that hovers over the property).  Here we received a world-class introduction and education in the art of global gardening at the hands of Gundula.  She oversees all of the plantings in this vast estate and in only three years has created something of biblical proportions.  The grounds are gorgeously laid out, having been inspired by the owners' travels:  parts feel Mediterranean, others Persian, and still others evoke the heath and meadows of the British Isles.  Indigenous plantings are also well-represented.  Absolutely everything grown can be eaten or used for medicinal purposes.  We put this to the test as we walked and sampled tree tomatoes, pineapple sage, and the indigenous African num-num, which is apparently the only fruit with a milky-white juice which is not toxic to humans.  We were a little nervous as the kids took cautious nibbles.  It would have been a real drag to have to race to an ER but this proved entirely unnecessary; they and we declared it delicious and we're here to write about it so it lived up to its billing as edible.
We further sampled the fruits and vegetables of Gundula's efforts in the restaurant.  We sat and were served a chef's treat of warm roasted guavas in a clementine glaze alongside a blue cheese whipped mouse which was incredible on slices of dark country bread.  There was also a crock of farm-fresh salted butter and a bowl of the property's own pressed olive oil infused with a medley of chopped garlic and every green herb imaginable.
 Three varieties of salads were also offered:  a green, a red, and a yellow.  The components of each of these change daily based on what is freshest but everything is skillfully presented and imaginatively paired.  Carter's red salad included red cabbage, eggplant, tomato, guava, pomegranate, and beetroot crisps, while Russ's green version had baby butter greens, spinach, apple, fennel, green beans, pear slices, and turnip crisps.  We all had the duck confit for our main dish.  This came with three sides served family-style:  baked eggplant topped with yogurt and green clover, wedge potato fries, and sautéed red and yellow swiss chard.  Incredible.  The kids sampled the gourmet cupcakes for dessert:  Carter opting for the chocolate nut and Katherine the vanilla rose.  The latter was laced with rose water and topped with a stunning and edible real peach rose blossom.  Russ had the dark chocolate and black olive torte, which was a wedge of sweet-salty lusciousness.  He barely shared a bite and told our friendly server Felicity that he knew she was looking out for his best interests when she delivered his dessert with only a single spoon.  I would have to make do with an espresso and a single bite of the torte.  It was definitely my loss.
I am slightly embarrassed to admit that this lunch wasn't the first meal of the day.  Our first stop that morning had been at Fairview Winery, only we weren't there for the wine.  Our guide Clare had suggested we might like to try their famous goats' milk cheeses (thank you Clare!).  We tried ten different kinds and chose two to take home.  It was a scrumptious way to start our food and wine tour.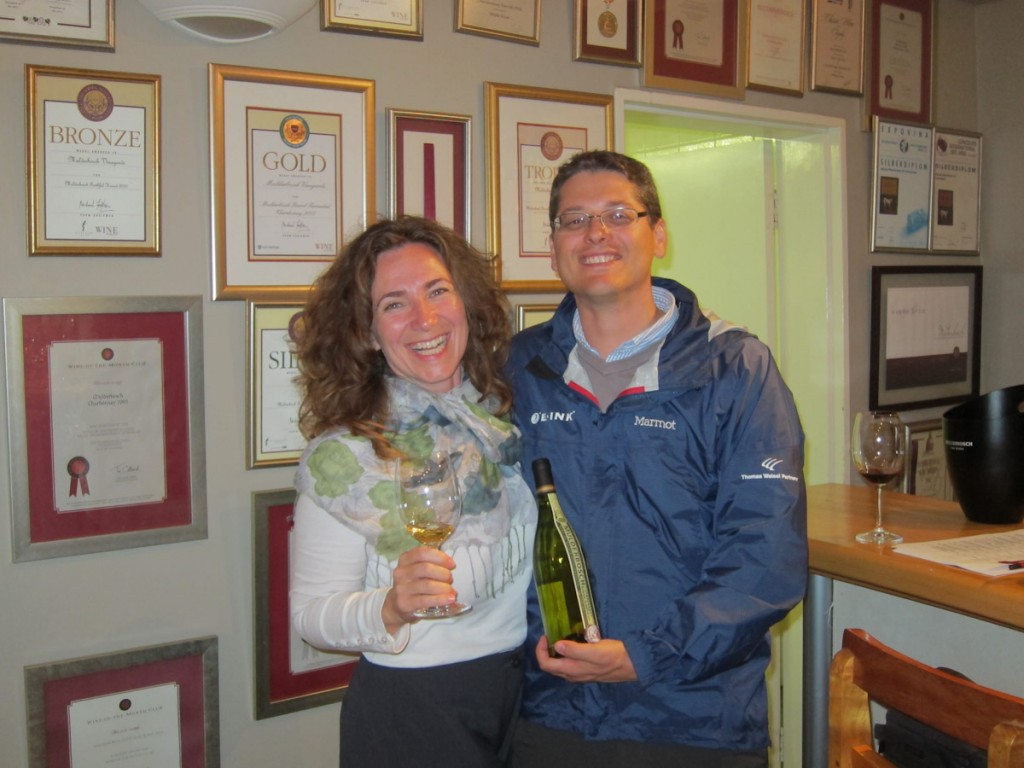 We concluded our visit to the winelands with a stop at the home of our favorite South African label:  Mulderbosch. It  felt a little like a pilgrimage and we thought of our friends Karen & Giles who have also come to love this grassy-herby-yummy sauvignon blanc.  We tasted our favorite and then tried four other varietals we never knew they produced.  We fell for the barrel-aged chardonnay which tasted nothing like our chardonnays at home (a good thing) and noted that the awards which ran floor to ceiling were mostly accorded to this particular wine.  Hmmm.  It seems that they are keeping the best stuff within the country as it is not available for export.  We briefly considered shipping some home until we learned that the economics only started to make sense once you hit a container full (i.e., more than 1,000 bottles).  We weren't sure we could convince enough friends to come in on this so had to settle for a final sip and wistful farewell. 
As we left, we resolved that the region had a ton of great food and wine to offer and definitely justified a return trip.  Maybe once the kids are off to college…
NOTE:  some of the pictures below are from the countryside drives we took through the wine regions